Travelncare Switzerland and France tourism package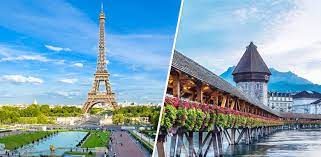 Sep 07, 2023
Travelncare's Switzerland and France tourism package offers an enticing itinerary for exploring these two captivating European countries. Here are some highlights and attractions you can expect to experience:
Switzerland:
Majestic Alps: Switzerland's iconic mountain range provides breathtaking scenery and opportunities for outdoor activities like hiking, skiing, and mountain biking.

Charming Cities: Visit Zurich, Geneva, and Lucerne to discover a blend of medieval architecture and modern sophistication. Explore their picturesque old towns, museums, and cultural landmarks.

Swiss Countryside: Immerse yourself in the serenity of the Swiss countryside, with its rolling hills, pristine lakes, and quaint mountain villages.

Scenic Train Rides: Take a memorable journey on the Glacier Express, known for its panoramic views of snow-capped mountains, glaciers, and charming villages.
France:
Paris: Explore the romantic city of Paris and marvel at its world-famous landmarks such as the Eiffel Tower, Louvre Museum, and Notre-Dame Cathedral. Enjoy strolls along the Seine River and soak up the city's vibrant atmosphere.

French Cuisine: Indulge in the exquisite flavors of French cuisine, from croissants and cheese to wine and escargots. Experience the culinary delights in local cafes, bistros, and Michelin-starred restaurants.

French Riviera: Visit the glamorous French Riviera, known for its beautiful coastal towns like Nice, Cannes, and Saint-Tropez. Relax on sandy beaches, explore charming seaside villages, and enjoy the vibrant nightlife.

Bordeaux Wine Region: Experience wine tasting in the vineyards of Bordeaux, renowned for its world-class wines. Learn about the winemaking process and sample a variety of wines in picturesque châteaux.
The Travelncare package ensures a seamless travel experience with comfortable accommodations, expert guides, curated itineraries, and convenient transportation. You'll have the opportunity to visit iconic attractions like Château de Chillon, enjoy a cruise along Lake Geneva, and wander through the enchanting streets of Montmartre in Paris.
Remember to check the Travelncare website (
https://www.travelncare.com
) for more updates and detailed information about the package. Enjoy your dream vacation exploring the natural beauty and cultural treasures of Switzerland and France!